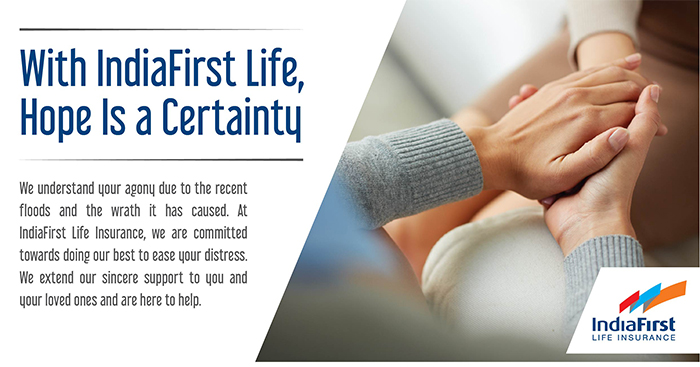 Contact our Nodal Officers in The flood Affected Areas

| Location | Name | Contact Number |
| --- | --- | --- |
| | | |
| --- | --- | --- |
| Kerala | Praveen Prabhakran | 0484-6715000 |
| Karnataka | Hari Babu | 080-68280100 |
| Gujarat | Devansh Sheth | 079-39418700 /079-26318700 |
| Maharashtra | Arif Kazi | 020-61658700 |
Unlike the long list of documents that needed to be submitted before, the documents below are the only ones to be submitted to make things easier.
Original Death Certificate / Attested copy of Death Certificate, An FIR/Missing Person Report to be filled by close relative or next of kin at a place of resident of the person who is missing & presumed dead.
Copy of ID & Address Proof of Nominee
Copy of Bank Pass Book & Cancelled Cheque of Nominee
If you do not have the death certificate to secure group life claims or body of the deceased then please connect with us on below contact details for further information.
The current situation might have brought distress to you, hence please connect with us for any request/ concerns.

Loss of Policy Documents

Any question with regards to

Indiafirst Life Insurance Policy


Contact detail updation
*Note: Customer Care timings are Monday to Saturday 9am – 7pm.
| | |
| --- | --- |
| IndiaFirst Life Insurance Company Limited, IRDAI Regn No.:143, CIN: U66010MH2008PLC183679, Address: 301, 'B' Wing, The Qube, Infinity Park, Dindoshi – Film City Road, Malad (East), Mumbai – 400 097. Toll free No – 18002098700. In this advertisement we are talking about Life Insurance Coverage. Trade logo displayed above belongs to M/s Bank of Baroda, and M/s Andhra Bank and used by IndiaFirst Life Insurance Co. Ltd. under license. Advt. Ref. No.:___ | |